Isolated, High-Performance and Flexible
Perfect for developers and system admins who are familiar with the command line and prefer to configure the servers their own way. Get the benefits of a dedicated server at a fraction of the cost.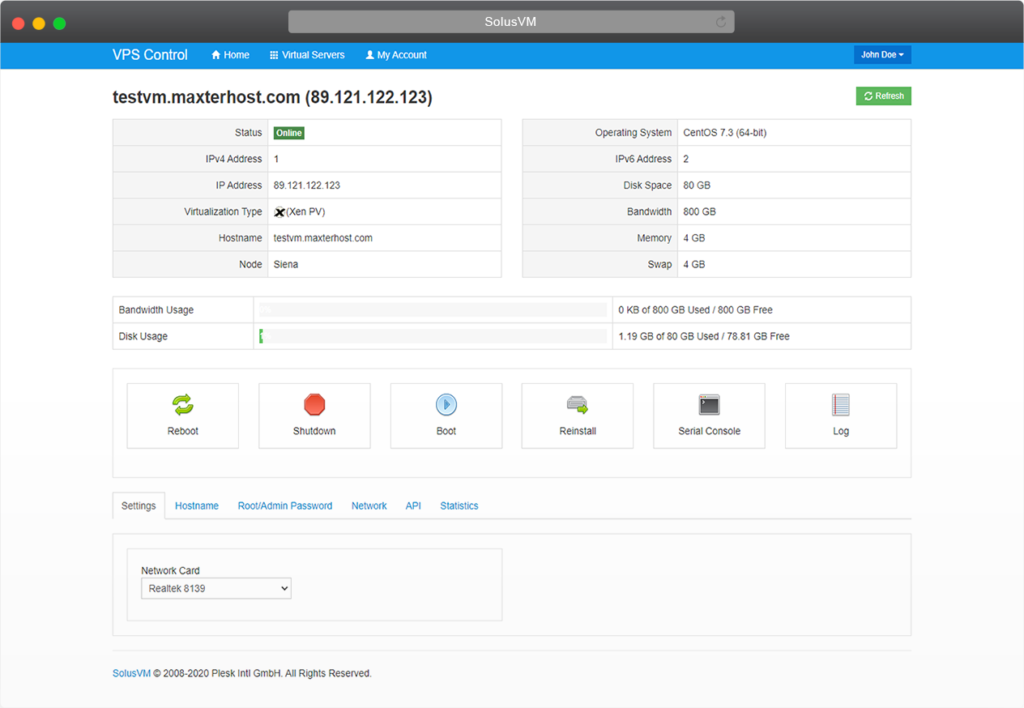 Powerful and user-friendly control panel for virtual servers. Reboot your server, change its hostname, troubleshoot using the serial console, re-install the OS, display bandwidth & disk statistics, and more.
Frequently Asked Questions
Do I get root access to the VPS?
Yes, you get full root access to your VPS. This should be handled carefully.
Can I add more IPv4 or IPv6 addresses or subnets?
Additional IPv4 addresses and subnets can be ordered at any time at the prices displayed during the order process.
However, please note that due to the global IPv4 exhaustion, it may be more difficult and take more time to obtain additional IPv4 space. IPv4 addresses are also assigned with technical justification, in accordance to the RIPE regulations.
Please contact us for more information.
Can I install anything on my VPS?
You are free to install any legal and licensed (if applicable) software on your VPS, as long as it's permitted in Germany and the European Union, where our servers are located.
The installed software should also not overload our node or cause our hardware to wear out faster than usual.
Please refer to our Acceptance of Use Policy and contact us if you're not sure.
Can I upgrade or downgrade my VPS?
Upgrades are possible at any time and usually require just a reboot. The unused period is pro-rated.
However, please note that downgrades are technically not possible, as the disk partition cannot be reduced without risking loss of data.
If you must downgrade your VPS, we recommend ordering a new one and transferring the data to it.
Can I switch to a different billing cycle?
Yes, of course. Please contact our billing department and we'll switch your VPS to your preferred billing cycle.
Can you migrate my existing VPS?
Unfortunately, not. This is a quite complex process and can cause certain compatibility issues and/or loss of data, reason why we cannot assume this risk.
However, you can use the rescue mode and serial console to do the migration by yourself, although we'd rather recommend setting up a new VPS and transferring the data to it.