High-Performance, Enterprise-Grade
State-of-the-art hardware for resource-intensive workloads at incredible prices. Isolated hosting environment without the "bad-neighbor effect".
Availability: Most servers are usually setup within 24 to 72 hours.
Contract term: Minimum 1 month, beginning with the order date.
Cancellation notice: Minimum 30 days before the next due date.
Otherwise, the contract automatically extends itself by another term.


Add our server management service and let us handle your server's maintenance:
Software licenses that can be purchased for your dedicated server:
Complementary services that can be booked or purchased separately: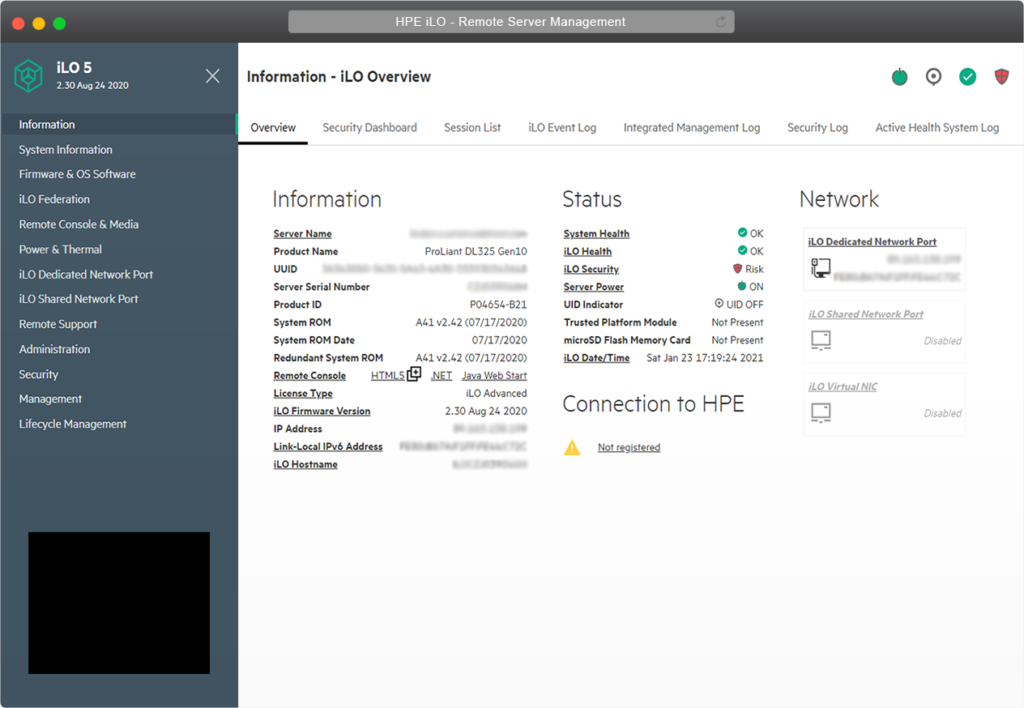 HPE Integrated Lights-Out
Advanced remote interface to provide you full control over your server, as if you were right in front of it.
The iLO remote console allows you to monitor the hardware health and temperatures, install an operating system, troubleshoot and rescue your server, and many other useful features to manage your server. It comes with a graphical web interface, as well as a remote KVM console available through your browser, iOS, Android and other platforms.
Frequently Asked Questions
Do I get root access to the dedicated server?
Yes, you get full root access to your server, as well as access to the iLO console.
Can I add more IPv4 or IPv6 addresses or subnets?
Additional IPv4 addresses and subnets can be ordered at any time at the prices displayed during the order process.
However, please note that due to the global IPv4 exhaustion, it may be more difficult and take more time to obtain additional IPv4 space. IPv4 addresses are also assigned with technical justification, in accordance to the RIPE regulations.
Please contact us for more information.
Can I install anything on my dedicated server?
You are free to install any legal and licensed (if applicable) software on your dedicated server, as long as it's permitted in Germany and the European Union, where our servers are located.
The installed software should also not overload our node or cause our hardware to wear out faster than usual.
Please refer to our Acceptance of Use Policy and contact us if you're not sure.
How long does the server setup take?
This depends on the selected server and configuration. If the server and all necessary hardware are available at the data center, the setup can take only a few hours. Otherwise, it can take anywhere between 1 to 7 business days.
If you'd like us to manage your server and add a server administration plan, the setup would take an additional 48 to 72 hours since we must handle the initial server configuration and audits.
Please contact us before ordering a server if you need a server urgently or on a specific date.
Can I switch to a different billing cycle?
Yes, of course. Please contact our billing department and we'll switch your VPS to your preferred billing cycle.
Can you migrate my existing data?
We only provide account transfers from and to cPanel, DirectAdmin and Plesk servers when you add a server administration plan and let us manage your server.
Other types of transfers are generally not supported, but please feel free to ask us. If there's something that we can handle, we'd gladly help.